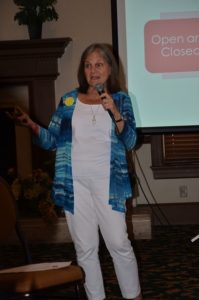 As a highly experienced Transformational Guide and Morale Builder, Ellen offers:
Workshops and Keynotes
Private Family Workshops
Teaching Intensives
Private Retreats
Among the topics available (including but not limited to):
High Level Processing of Your Challenging/Difficult Situations
Let's Talk Energy
Creatively Handling Negativity to Your Advantage
Overcoming Emotions That Hold You Back
Care for the Caregiver
Foundation for Living a Rich Life
How Can I Be Happy No Matter What?
Social Work: Courage, Hope, and Leadership – The Inner Self Care Model
Every Word Counts
Meditation & Relaxation
Ways to Improve Your Life
Building, Defining, Transforming: Social Work in the 21st Century
Partnering at the Speed of Change
Business Zen – Business Development & The Meaning of Life
The Metaphysics of Transition; Significant Others (How Do I Also Meet My Needs?)
Sensitivity Beyond the Basics: Focusing on Human Growth
Developmental Tasks Boost Client Self Esteem and Confidence
Please contact her to book for your next event.